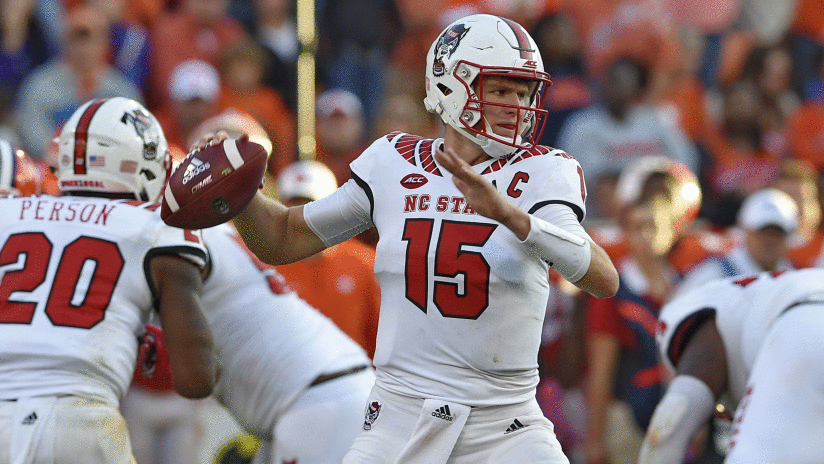 For just the fifth time in their history the Bengals traded up and for the first time it was for a quarterback when they leaped six spots in the fourth round to take North Carolina State's Ryan Finley.
Head coach Zac Taylor, a quarterbacks coach for all but one season of his NFL career, had been pretty quiet about acquiring new help for the position. They were mute on the free-agent front and didn't entertain the top tier of quarterbacks at Paul Brown Stadium during the draft process.
But they did visit with Finley at PBS and the first QB move was a big one early Saturday when the packaged two of their sixth-round picks to exchange spots with the 49ers. Besides his height (6-4), Finley impressed the coaches with his football IQ but he also did plenty on tape to impress them with a 67.4 completion percentage last season to go with 25 touchdowns against 11 interceptions. During his junior season he went 339 straight passes without throwing a pick. He's looking to add weight, but he'll have time to develop as the No. 2 because they have no designs to replace Andy Dalton this season.
Taylor and his staff like Finley's ability to throw in rhythm and anticipation of receivers getting open as well as his mobility in the pocket. N.C. State teammate Germaine Pratt, the linebacker the Bengals took in the third round, had just finished meeting the media at PBS when the move was announced.
"That's my guy," Pratt said he hurried to an autograph signing. "Great arm. Good leader."
The Bengals traded up to get running back Ki-Jana Carter in the first round in 1995, tight end Matt Schobel in the third round in 2002, center Russell Bodine in the fourth round in 2014 and safety Brandon Wilson in the sixth round in 2017. It's believed to be the first time since two picks in the 2007 seventh round the Bengals went back-to-back with players from the same school since Notre Dame guard Dan Santucci and safety Chinedum Ndukwe.